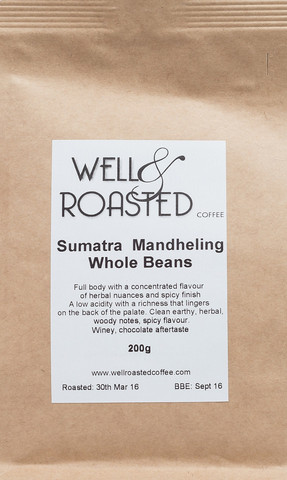 Tea & Coffee
Well Roasted - Sumatra Mandheling G1 Coffee
£7.80
Product information
200g bag of Sumatra Grade 1 Mandheling coffee from the Aceh region - whole beans, or ground as you like it. This product is Rainforest Alliance certified. Full body with a concentrated flavour of herbal nuances and spicy finish. A low acidity with a richness that lingers on the back of the palate. Clean earthy, herbal, woody notes, spicy flavour. Winey, chocolate aftertaste.
William Scott, founder and owner of Well & Roasted is a coffee roaster, coffee lover & coffee traveller with visits to coffee countries around the world including Kenya, Colombia, India, Sri Lanka, Australia and Jamaica. He is a trained Barista with many years experience in the coffee industry.
The company is called Well Roasted Coffee (with a subtle '&' between Well & Roasted) to show they are local to the Welland Valley. Their Rain Forest Alliance certified Arabica Coffees are all roasted by William locally in Desborough, Northamptonshire
.
These specially selected coffees are hand roasted to a medium roast to retain the nuances associated with the region and country of origin.
The coffees are supplied in 200g Kraft bags (resealable and with an air-vent that help retain freshness) as a Whole Bean or any Grind to suit your coffee maker. A 200g bag will give you 13 double espressos or 13 2cup Cafetiere Coffees or 13 Aeropress coffees or 8 V02 Dripper Coffees @400ml pots.
| | |
| --- | --- |
| Supplier | Well Roasted Coffee |
| Ingredients | Sumatran coffee beans |
| Shelf Life | Use within 6 months of purchase |
| Allergen Information | |
| Category | Tea & Coffee |
| SKU | WAR-SUM |